James G. Newbauer
February 9, 1934 – March 18, 2020
"When you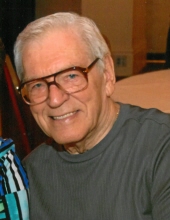 sorrowful look again in your heart, and you shall see that in truth you are weeping for that which has been your delight." Khalil Gibran 
Every now and then the good Lord sees fit to send an angel to live among us. James Gilbert Newbauer, known affectionately as "Jimmy G", was one such angel. A gentle soul, Jim enhanced our lives with his contagious smile, endless humor and a generosity of spirit, love and kindness that was effortlessly shared with all that he met. 
In his 86 years on this Earth, he lived life to the fullest – from being one of St. John's top football stars (Crazy Legs #88) to proudly serving his country in the Korean war during which time he experienced the rich cultures of many countries. But it was the simple things that brought Jim his greatest joy. Family vacations in the breathtaking Wisconsin woods. Hoping for that big win at his favorite casino. Playing a daily game of cribbage with his wife Andria. And, of course, indulging in a Brandy Old Fashion or two. 
Jim has been preceded in death by parents Gilbert and Luella Newbauer (nee Sattler) Sharlene Newbauer (nee Roeser) and grandson Alexander Pendergast.. He is survived by his wife Andria (nee Nyland). Children Mary (JerriLee), Nancy (Randy), Jeff (Gina), Julie (Lea Ann), Janis (Rick), Michael (Dawn) Fleck and Elizabeth (Patrick) Savignac. Siblings William (Germaine), Lawrence (Cathy), Donald (Ellen) and Thomas (Debbie). Grandchildren Samuel, Katie, Kelly, Joseph, David, Kelsey, Erik and Nick.. Great granddaughters Grace and Ashland. And a loving collage of nieces, nephews, cousins and lifetime friends (Tom Kennedy and Rudy Liebelt). 
And for those of us blessed to have known James Gilbert Newbauer – we will remember … we will cherish … we will continue the legacy of this Earthbound Angel. 
Rest in Peace Jimmy G. You will be forever in our hearts. 
A special thank you to the compassionate staff at Angel Grace Hospice. 
A memorial service is pending. 
In lieu of flowers, please send donations to Angel Grace Hospice in Oconomowoc or St. Jude's Children's Hospital.