George R. Winiarski
May 28, 1928 – May 11, 2020
Of Germantown, WI passed away Monday, May 11, 2020, at the age of 91. He is survived by his beloved wife of 54 years Angie (nee Ostricki). Loving father of Peggy (Tim) Arnold, and Paula (Dan) Sibila. Grandfather of Kiersten (Kyler), Zachary, Brett, Georja and Colemin. Brother-in-law of Sonny (Barbara), Larry (Cindy), Lil (Mike) Raymond, Hank (Chris). George was a proud U.S. Army Veteran who served during the Korean War. He was a lifetime member of Runge Brothers VFW Post 1691. After the service he worked at Pfister & Vogel Tanning Co. and retired in 1990 as a Foreman after 35 1/2 years. After his retirement he and his wife Angie spent the winters in North Port FL where they made many lifelong friends. George enjoyed camping, bowling, golfing, fishing, and playing cards. He is survived by many nieces, nephews and other relatives and friends and will be greatly missed by all. He was preceded in death by his parents and 6 siblings Edward (Irene) Winiarski, Tony (Bernadine) Winiarski, Stella Winiarski, Stanley (Ceil) Winiarski, Alice (Richard) Wier, Dolores (Oscar) Kornblum. Special thanks to Dr. Kamal Ahmin, Jackie, Kelly, Sue and Patty at Davita Dialysis, Dr. Hietpas and Horizon Hospice especially Karen and Wade. In lieu of flowers, memorials appreciated to the National Kidney Foundation of Wisconsin. A Memorial Mass and a celebration of George's life will take place when social gatherings are permitted.
Emil Zinke, Jr.
June 7, 1951 – May 4, 2020
Of Sussex. Passed away peacefully after a long battle with colon cancer on Monday May 4, 2020, at the age of 68. Loving husband of Denise (nee Janick) for 40 plus years. Best father of Kevin (fiancé Liane Rakow). Dear brother of Monica (Don) Brodnick and Sylvia (Dan) Torn. Dear son-in-law of Reta and Dusty Destrampe, and Delores Janick. Dear brother-in-law of David Janick, Daniel and Sandra Janick, Donald Janick, Douglas Janick and Carrie and Matt Diehn. Preceded in death by his parents, Emil, Sr. and Maria (nee Magenheim), his cousin, Matthias Magenheim and his father-in-law Richard Janick. Further survived my nieces, nephews, god children, other relatives and friends.
Emil retired from the Brady Corporation after 43 years of service. He enjoyed fishing, playing the slots and riding his motorcycle and he will be known for his great sense of humor. The family would like to thank the staff at Aurora Cancer Care in Germantown and Horizon Hospice especially Nurse Glenda for all her in-home visits.
A Celebration of Emil's life will be held at a later date.
Joseph T. McCartan
June 8, 1936 – April 18, 2020
Age 83, passed to eternal life on Saturday, April 18, 2020. Preceded in death by his wife, Joan of 50 years. Survivors include his children Brenda (Gary) Ramus, Thomas (Sharon) McCartan, Bonnie Snuggs (Victor), Betty (Dan) Dobratz, 9 grandchildren and 17 great-grandchildren, his sister Marilyn Duley (nee McCartan), nephews, nieces and other relatives. Private burial with memorial service to be determined at later date.
Joyce V. Egle
November 16, 1935 – April 14, 2020
(nee Kalmon) Born into eternal life on April 14, 2020 at the age of 84. Beloved wife of Jerry for 64 years, loving mom of Mary (Robert) Fourness, cherished grandma of Dan (Alyssa) and Jake and proud great-grandma of Jasper. She is also survived by her siblings Ann Fischer, Ronald Kalmon, Nancy (Stash) Zagorski and Ruth Heindl. She is preceded in death by her siblings Geraldine and Claire. Joyce was devoted to her family. She loved quilting and being a member of the St. James choir.
A Memorial Mass will be held at St. James Catholic Church in Menomonee Falls at a later date. Check back for service details. Memorials are appreciated to the St. James Building Fund.
James G. Newbauer
February 9, 1934 – March 18, 2020
"When you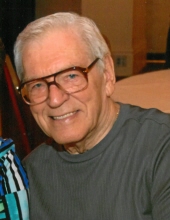 sorrowful look again in your heart, and you shall see that in truth you are weeping for that which has been your delight." Khalil Gibran 
Every now and then the good Lord sees fit to send an angel to live among us. James Gilbert Newbauer, known affectionately as "Jimmy G", was one such angel. A gentle soul, Jim enhanced our lives with his contagious smile, endless humor and a generosity of spirit, love and kindness that was effortlessly shared with all that he met. 
In his 86 years on this Earth, he lived life to the fullest – from being one of St. John's top football stars (Crazy Legs #88) to proudly serving his country in the Korean war during which time he experienced the rich cultures of many countries. But it was the simple things that brought Jim his greatest joy. Family vacations in the breathtaking Wisconsin woods. Hoping for that big win at his favorite casino. Playing a daily game of cribbage with his wife Andria. And, of course, indulging in a Brandy Old Fashion or two. 
Jim has been preceded in death by parents Gilbert and Luella Newbauer (nee Sattler) Sharlene Newbauer (nee Roeser) and grandson Alexander Pendergast.. He is survived by his wife Andria (nee Nyland). Children Mary (JerriLee), Nancy (Randy), Jeff (Gina), Julie (Lea Ann), Janis (Rick), Michael (Dawn) Fleck and Elizabeth (Patrick) Savignac. Siblings William (Germaine), Lawrence (Cathy), Donald (Ellen) and Thomas (Debbie). Grandchildren Samuel, Katie, Kelly, Joseph, David, Kelsey, Erik and Nick.. Great granddaughters Grace and Ashland. And a loving collage of nieces, nephews, cousins and lifetime friends (Tom Kennedy and Rudy Liebelt). 
And for those of us blessed to have known James Gilbert Newbauer – we will remember … we will cherish … we will continue the legacy of this Earthbound Angel. 
Rest in Peace Jimmy G. You will be forever in our hearts. 
A special thank you to the compassionate staff at Angel Grace Hospice. 
A memorial service is pending. 
In lieu of flowers, please send donations to Angel Grace Hospice in Oconomowoc or St. Jude's Children's Hospital.