Norman A. Dreweck
February 9, 1925 – September 11, 2021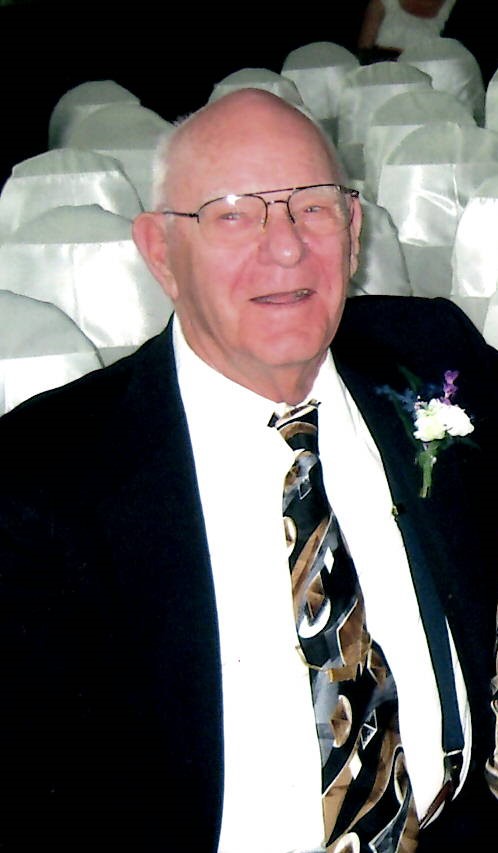 Of Menomonee Falls, September 11, 2021, Age 96 years. Beloved husband of Mary L. (Nee Bubnick). Loving father of Janet (Bill) Skotzke, Daniel (Ann), James (Mary), Jean (Bob) Hazard, Joan (Tony) Jaworski, Mary Jo (Joiner) Conroy and Margie (Jim) Pike. Dear brother-in-law of John (Lynda) Bubnick. Preceded in death by his parents and brothers. Further survived  by 19 grandchildren, great grandchildren other relatives and friends.
A Memorial Mass will be celebrated Friday September 17 at 11:30AM at St. James Catholic Church W220 N6588 Town Line Rd., Menomonee Falls followed by Military Honors at St. James Cemetery. The family will greet friends Friday 10AM until time of the Mass. In lieu of flowers, memorials to the charity of your choice appreciated.
Norm enjoyed hunting, fishing, dancing and working but above all, he enjoyed his family.
Esther A Towne
December 12, 1930 – August 31, 2021
Esther, of Sussex, Wisconsin was welcomed home into Eternal Life on Tuesday, August 31, 2021.
Born in Hollywood, Illinois on December 12, 1930, the daughter of Esther and William Witt. Esther raised a family of five children and is survived by three of them; Daniel Towne of Kansas, Timothy Towne of Kansas and Becky (Dean) Travis of South Dakota. Her two other children, Michael (Karen) Towne and Patricia Ferguson met her at the gates of heaven. She is also survived by many grandchildren and great-grandchildren, brother Charles Witt, nieces, nephews as well as many close friends.
Besides being a strong faithful Catholic and singing in the choir, she was also a talented artist. She enjoyed teaching others how to achieve improvement with their skills as an art teacher. Her favorite past times were playing Rummikub , Dominos and was a big Packer fan! Anyone that knew this witty Irish lady, witnessed her passion for her heritage and saw it when they walked into her home and/or shared St. Patty's days with her. One of her highlights in life was meeting the pope and having her picture taken with him.
Visitation will be held on Saturday, September 18, 2021 at ST. JAMES CATHOLIC CHURCH, W220 N6570 Town Line Rd., Menomonee Falls, from 10:00 AM until Mass of Christian Burial at 11:00 AM.
Mary Lee Lueck
May 31, 1931 – September 4, 2021
Mary Lee Lueck (nee Rosenberg) found peace on Saturday, September 4, 2021 at the age of 90 years. Beloved wife of the late Daniel. Loving mother of Steven (Sandy), Nancy (the late Mike) Capelle, Tim (Bonnie), Carl (Sarah) and Larry (Beth). Proud grandmother of Andrew (Chris) Capelle, Ryan Capelle and Travis (Joana) Capelle, Angela (Brian) Loch, Jessica (Sean) Sullivan, Jacob (Christina) Lueck, Ben Lueck, Joshua Lueck, Isaac Lueck, Evan Lueck and Kate Lueck. Great grandmother of Ian, Levi, Oliver, Hensley, August, Annie and Dani. Further survived by other relatives and friends. Preceded in death by her brother John Rosenberg.
Mary Lee Rosenberg was born in Birmingham, Alabama in 1931. After spending a year of her childhood in Bessemer, AL, the family moved to Chicago, IL and then Milwaukee, WI, where she graduated from Riverside High School in 1949.
Mary has always been focused on her family. She loved spending time with her older brother, John. In 1952, she traveled alone aboard the Queen Mary to England to meet her soon to be sister-in-law, Gloria.
After returning from the trip overseas, she married Milwaukee neighborhood friend Daniel Lueck in 1953. They lived in a duplex in Milwaukee above the elder Rosenbergs on Hubbard Street. This is where they started a family, first with Steven and then Nancy. They then decided to move to the Northlawn Housing Project in Milwaukee for a few years before moving to Butler for a year.
In 1961, they moved to the Town of Lisbon, residing at Windy Hill. There, they expanded the family with Tim, Carl, and Larry. It was at Windy Hill where the family also had many dogs and some chickens. The family attended St James Parish.
She worked at Addison Telephone Answering Service in Menomonee Falls, and then served as Treasurer for the Town of Lisbon for over 20 years. Also, she was a notary public.
Mary Lee enjoyed playing cards, bingo, participating in bowling leagues, being a member of the Lisbon Snow Knights snowmobile club, meeting family for dinner specials at Pepino's, and attending any of her children and grandchildren's events. She volunteered as school secretary and at the fundraising fish frys at her son's church, was a swimming instructor at Menomonee Park, a Girl Scout leader, and a Cub Scout den mother. She was a good homemaker canning, baking and cooking delicious meals. As a family, everyone enjoyed camping throughout the state.
Later, Mary Lee was a member of the Red Hat Club.  For several years she could be seen on TV volunteering at the Channel 10 Great TV Auction.
She was an avid sports fan and especially loved the Milwaukee Brewers, supporting the team as a season seat holder sin
ce 1997. She also loved cheering on the Milwaukee Bucks and the Green Bay Packers.
Mary Lee could always be seen with a big smile on her face and truly loved being surrounded by her family.  She also created many lifelong friendships, including Jean Mills in Chicago, the Salzman family from Milwaukee, and the Enghofer family from Lannon.
She will be missed by all of her friends and family.
Visitation Saturday, September 11 at St. James Catholic Church W220 N6588 Town Line Rd., Menomonee Falls from 9 AM until time of Mass of Christian Burial at 11 AM. Private burial Wisconsin Memorial Park, Brookfield.
Dr. Terrence "Terry" Inda
June 2, 1926 – August 24, 2021

Dr. Terrence Inda of Menomonee Falls, 95, died peacefully on August 24, 2021 at Kathy Hospice in West Bend. He is survived by his loving wife, Gail (Schueller) Inda, his children Robert (Brandon) Inda, late Thomas (Lorre) Inda , Jane (Jim)
Ziemendorf, and Mary (Scott) Merriman, and his step children, Carol (Rick) Petrusky, Cathy (John) Drasch, Ken (Donna) Schueller, and Jerry (Tracy) Schueller. Dear brother of Dr. Greg Inda, Margie Andritsos, Rosie (Terry) Malouf and Dr. Michael (Pat) Inda. He is further survived by 18 grandchildren, 17 great grandchildren, and other relatives and friends. He was preceded in death by his wife, Betty and son, Thomas.
Terry graduated from Marquette University High School in 1944 and immediately enlisted in the US Navy. He served in the Pacific as a radioman on the USS Jim Bowie. After the war, he returned to Milwaukee and attended Marquette University. He married his college sweetheart Elizabeth (Betty) Poehlmann and graduated with his degree in Dentistry in 1952. He opened a dental office in Menomonee Falls and practiced there for 50 years. He was extremely involved in the Menomonee Falls community as an honorary staff member of CMH, as the President and member of the Park Board for over 30 years, and a member of St. James Church for 56 years.
A Mass of Christian Burial will be held on Saturday, September 4 at St. James Catholic  Church in Menomonee Falls at 11AM. (MEET AT CHURCH) Visitation will be held AT THE FUNERAL HOME Friday, September 3 from 4-7PM with a Prayer Service at 6:30PM. Private entombment at St. Mary's Mausoleum, Menomonee Falls. Those who wish to remember Terry in a special way may make gifts in his memory to Marquette University, St. James Church or Froedtert Cancer Center. Special thanks to Dr. Kathryn Bylow and Dr. Bruce Campbell from the Froedtert Cancer Center.