Exciting News for St. James!
It is with a sense of great joy that I write to announce to you the next pastor for St. James Parish, Fr. John Hemsing. His appointment by the archbishop will be effective Tuesday June 21, 2022.
Here is a bit of background on Fr. John:
Fr. John earned his Master of Divinity from Saint Francis de Sales Seminary, and a Doctorate of Ministry degree from Graduate Theological Foundation, South Bend, Ind. He was ordained to the priesthood May 20, 1988. He currently serves as rector of St. Francis De Sales Seminary in Milwaukee where he has served from October 1, 2011 until the present time. Prior to his current assignment, he served as pastor of Lumen Christi Parish, Mequon, and was pastor at St. Clare Parish, Wind Lake, from 1996-2008. Fr. John's first appointment as an associate pastor was at St. Mary Parish, Waukesha, 1993-1996. He also served as a pastoral team member at Immaculate Conception Parish, Milwaukee, from 1988-1993. Fr. Hemsing has also served the archdiocese as a member of the Archdiocesan College of Consultors, since 2005, as well as a dean, District three, from 2002-2008.
The specifics of his schedule at the parish will be worked out over the coming weeks.
This is an exciting time in St. James Parish history. Under Fr. John's spiritual and temporal care, and with the Grace of God and guidance of the Holy Spirit, this 174 year old parish has some great years ahead!
Please join me in welcoming Fr. John!
Your brother in Christ –
__________________
Deacon Sandy
---
St. James Annual Thrift Sale – June 9th, 10th and 11th
Collection of Items Start Wednesday, May 25th:
Wednesday, May 25                           8 am – 7 pm
Thursday & Friday, May 26 & 27      8 am – 5 pm
Tuesday, May 31                                 8 am – 5 pm
Wednesday, June 1                            8 am – 7 pm
Thursday & Friday, June 2 & 3         8 am – 5 pm
Saturday, June 4                                8 am – 12 pm
It's Almost Here -St James Thrift Sale!!  Please donate your gently used items to St James. We welcome all clean, useable items including furniture – big and small, indoor and outdoor, lamps, pictures, sporting goods, housewares, bedding, linens, seasonal decorations, toys and tools, small electrical appliances, and electronics.  Clean, gently used clothing, jewelry, antiques, craft items, records, CDs, DVDs, etc., & books are also accepted.
NO computer equipment, TVs (except flat screen), or large appliances.  No magazines, video cassette tapes, encyclopedias, baby cribs, car seats or mattresses.  No exercising equipment or skis.  No entertainment centers and No Stuffed Animals.
We are asking for donations for our Bake Sale.  We need the baked goods to arrive no later than Wednesday June 8 before 3:00 p.m.
We also need able-bodied people for pickup and delivery of heavier items during collection dates and sale itself.  And we need help with sorting the donated items as they arrive. Anyone interested in helping out in any of these areas, please call either Gene Neyhart at 262-255-2164, or Cookie Helman at 262-844-2732.
Thrift Sale Dates and Hours:
Thursday, June 9th:  8 am – 7 pm
Friday, June 10th:  8 am – 5 pm
Saturday, June 11th:  8 am – 1 pm (1/2 price sale and $5 bags)
---
Pope Francis Wants Your Opinion!
All Catholics are being asked to participate in a Synod on Synodality to offer feedback to Pope Francis, the USCCB, and our archdiocese, offering their opinion on the state our Church. To participate, please click on the link below. For those not online, blank survey forms are available in the Gathering Area. We will offer survey support for those who need it after all Masses on March 14th and 15th with computers setup in the Great Room.
---

---
 Following are prayers from Pope Francis for peace in Russia and the Ukraine:
---
Mass from St. James on May 15th
---
Covid Testing at St. James by Appointment Only Starting 3/28/22

Please call 414-257-3951 to set up an appointment
Reconciliation/Confession is Available At:
St. James – On Saturday from 3:45-4:15 prior to the 4:30 Mass
Good Shepherd – Saturday 3:30-4:15 in the Mary Magdala Chapel
St. Mary's Menomonee Falls – Every weekday at noon
At any other time, ask Fr. Dennis or any other priest to set up an appointment
Morning Mass 
Wednesdays and Fridays at 8:00 am in the Chapel, unless there is a funeral that morning.

Tuesdays at 8:30 am at Good Shepherd, unless there is a funeral that morning.

Eucharistic Adoration

Tuesdays, 8:30 am – 4:00 pm

Holy Hour & Rosary 4:00 pm – 5:00 pm
Saturday, 7 am – 8 am


---
Year-Round Prayer Resources
---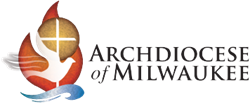 We want to keep you informed of the information 
from our archdiocese regarding the state's investigation 
into clergy abuse. It also includes resources for those affected…