HOLLY DAYS
Saturday, December 3rd    4pm – 7 pm
Sunday, December 4th       8am – 12:30 pm
A family friendly, fun event for the Sussex Area community to benefit St. James. Holly Days is a weekend of Christmas Cheer for the whole family, including:  Visits with Santa, Kids can shop for gifts at the Secret Santa Workshop, Famous Holly Days Bake Sale, Saturday Night Supper with Santa, Knights of Columbus Pancake Breakfast with Santa, A Christmas Boutique, Theme Basket Raffles, Online Silent Auction.  All items must be picked up at St. James. You do not need to be present to win.  Please Join Us!!
Saturday Supper Menu – $10/person (Lasagna, salad, garlic bread, water & lemonade & to-go orders available)
---
Feast of the Immaculate Conception – December 8th
(Holy Day of Obligation)
Mass at 8:00 am and 6:00 pm
                                                                 Parish Offices Will Be Closed
---

---
Welcome Fr. John Hemsing to St. James!
Fr. John earned his Master of Divinity from Saint Francis de Sales Seminary, and a Doctorate of Ministry degree from Graduate Theological Foundation, South Bend, Ind. He was ordained to the priesthood May 20, 1988. He recently served as rector of St. Francis De Sales Seminary in Milwaukee from October 1, 2011 until July 2022.  Prior to that, he served as pastor of Lumen Christi Parish, Mequon, and was pastor at St. Clare Parish, Wind Lake, from 1996-2008. Fr. John's first appointment as an associate pastor was at St. Mary Parish, Waukesha, 1993-1996. He also served as a pastoral team member at Immaculate Conception Parish, Milwaukee, from 1988-1993. Fr. Hemsing has also served the archdiocese as a member of the Archdiocesan College of Consultors, since 2005, as well as a dean, District three, from 2002-2008.
---

---
 Following are prayers from Pope Francis for peace in Russia and the Ukraine:
---
Reconciliation/Confession is Available At:
St. James – On Saturday from 3:45-4:15 prior to the 4:30 Mass
At any other time, ask Fr. John to set up an appointment
Morning Mass 
Wednesdays and Fridays at 8:00 am in the Chapel.

Eucharistic Adoration

Tuesdays, 8:30 am – 4:00 pm

Holy Hour & Rosary 4:00 pm – 5:00 pm
Saturday, 7 am – 8 am


---
Year-Round Prayer Resources
---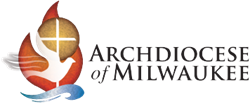 We want to keep you informed of the information 
from our archdiocese regarding the state's investigation 
into clergy abuse. It also includes resources for those affected…